Payments
Payment terms and conditions
Bank transfer - free

This method is possible with all shipping options, we however always wait for the payment to be cred-ited to our account, therefore the order delivery process can be slowed down. Pay your bill to IBAN account number: SK8083605207004206428078. Variable Symbol is the proforma invoice number that will be sent to you once your order is placed. The account is held at mBank S.A., a foreign bank branch.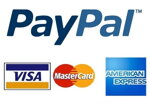 Online credit card payment - free (the payment is immediately credited to our account)
PayPal is one of the most popular and most commonly used payment methods used for online payments via the Internet and can be used by any email address owner. With PayPal, accounts are kept under email addresses rather than under an account number, as we are used to from tradi-tional banks.
PayPal is also an online payment system that allows you to make free online payments with a cred-it/debit card and to transfer money between accounts.
The system accepts VISA, VISA Electron, Maestro, and American Express.
How do I make a PayPal payment?
Easily. If you wish to make online purchase via PayPal on our web shop, you do not have to set up a PayPal account. Simply select PayPal as your payment method. After submitting your order, you will be asked to enter the card number, expiration date and security code.
Important note: PayPal payment methods do not provide your credit card number to the merchant.
To make a payment, you need:
- the credit/debit card number
- the expiration month and year
- CVV2 / CVC2 code (your security code is a three-digit number located on the back of the card above the signature strip)
- email address